OUR SOLUTIONS
Azair serves communities that need the most help with made to measure solutions to meet each community's unique needs. Our portfolio of water + solar energy + eco-sanitation systems is modular and scalable to match the local context and population size.
GRAVITY FEED (SURFACE WATER)
Our gravity feed system taps nearby surface water sources (e.g. rivers & springs) and is designed in such a way that minimal electricity is required and that no blockage from debris can occur
ATMOSPHERIC WATER GENERATOR (AWG)
Our AWG converts water vapour in the air into a liquid state to provide drinking water in any location.
RAINWATER HARVESTING
Our rainwater catchment areas maximise water output with minimal land usage to meet the community's needs
TUBEWELL
Our tubewell system taps underground aquifers to a depth of up to 100 metres to extract quality raw water
SOLAR SYSTEM
Our solar system captures and stores clean energy from the sun that can be used to power electrical appliances
WATER PURIFICATION PLANT
POWER HOUSE
ECO-SANITATION SYSTEM
Our ecological sanitation system converts harmful waste into useful by-products such as biogas and fertiliser
WATER + ENERGY + ECO-SANITATION
Azair's solutions are designed to withstand the harshness of a rural environment and require minimal maintenance in order to deliver the greatest long-term impact.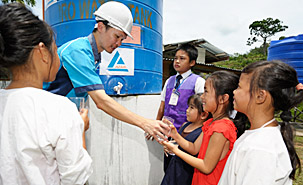 WATER SUPPLY
Our comprehensive suite of innovative solutions covers the entire water supply value chain: extraction, purification and storage & distribution. Our water systems are flexible and robust, drawing from a range of potential sources and producing quality drinking water.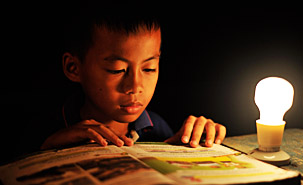 SOLAR ENERGY SUPPLY
Our solar energy systems supply and store clean energy efficiently to meet a rural community's power needs. Our technology can be installed in any location and can be connected to the public grid in the future. The systems Azair supplies are easy to use and require minimal maintenance.
ECO-SANITATION SYSTEMS
Our eco-sanitation systems are ideal to handle waste management in areas where public sanitation services are unavailable. These systems enhance communities' hygiene and prevent contamination of the local environment and water sources.